Built around 1400 BCE from Nubian sandstone, the Southern Sanctuary is a graceful temple complex located at Luxor, on the east bank of the Nile.
The Ancient Egyptian temple complex of Luxor has had an interesting history. Founded in 1400 BCE, it was expanded by 18th Dynasty Pharaohs Amenhotep III and Tutankhamun, and later by Ramesses the Great, and under the Roman Empire it was used as a fortress and government building.
Luxor Temple - also known as the Southern Sanctuary - is considered to have held great significance to the Feast of Opet. This annual religious festival involved a procession of the statues of the deities Amun, his wife Mut, and their child Khonsu, from the other grand temple complex in ancient Thebes: Karnak. Later celebrations would see the statues travel down the Nile by sacred boat and a ceremonial re-coronation of the Pharaoh.
During earlier celebrations of Opet, the procession between Karnak and Luxor would take place along the famous Avenue of the Sphinxes. This one-and-a-half mile (3 km) stretch of road is thought to have been home to around 1350 statues of human-headed sphinxes. Some of the sphinxes have been excavated and can be seen near the entrance to the Karnak temple complex.
If you've visited Paris, you might recognize the obelisk which stands at the entrance to the Luxor Temple. The gateway was originally flanked by twin obelisks until one was gifted to the French capital by Muhammed Ali. Since 1836, it has been located in the Place de la Concorde.
Top tip: whatever time of day you decide to visit the Luxor temple complex, make sure to return in the evening, when the ancient sandstone glows gold in the light of the sunset and the nightly illuminations create mystical shadows. 
Book a guided tour
Save time and money by reserving a guided visit to Luxor's temples online in advance. Immerse yourself in ancient Thebes' fascinating history thanks to an expert English-speaking guide and enjoy the ease of a hotel pickup and drop off service and transport by air-conditioned vehicle. Combine two of Luxor's most important monuments and don't worry about temple entrance fees - they're all included: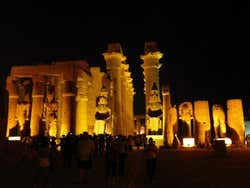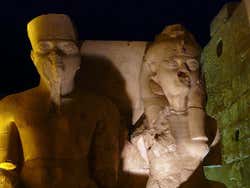 Schedule
Daily between 6 am and 9 pm.
Transport
Accessible on foot, by bike, or by taxi from accommodation and other sites in Luxor.