The hilltop Saladin Citadel, a Medieval Islamic fortress, is one of Cairo's main tourist attractions and offers magnificent views over the city.
Perched atop a hill in central Cairo, the Saladin Citadel is a historic Islamic fortification. Originally built by Sultan Saladin in the 12th century to protect his Sultanate of Egypt and Syria from the Crusaders, it was home to the rulers of Egypt for over 700 years. These days, visitors to the imposing ancient fortress will find some of Cairo's most important mosques and museums, as well as spectacular views over the surrounding city and, on clear days, even as far as the Pyramids of Giza.
Exploring the Citadel
A UNESCO-designated World Heritage Site, the Saladin Citadel is one of Cairo's most interesting places to visit, especially for those interested in Egypt's 'modern' history - that is, from the 7th century onwards! It is home to three main mosques: the Mosque of Muhammed Ali, also known as the Alabaster Mosque; the 14th century Al-Nasir Muhammad Mosque; and the Mosque of Sulayman Pasha, the citadel's first Ottoman-style mosque. There are also three museums, including the Egyptian Military Museum, the Carriage Museum and the Al-Gawhara Palace Museum.
It makes for a lovely few hours wandering around the ancient streets of the citadel and taking in the views. If you want to visit the mosques and museums, we recommend going with a guide so you can make the most of their explanations about the different things you'll see!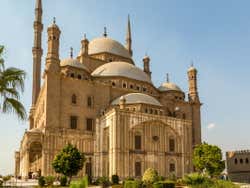 Schedule
Daily from 9 am to 5 pm (mosques closed to visitors during Friday prayers).
Price
Adults: LE 140.
Students (with valid ID): LE 70.
Transport
Hire a taxi, or book an inclusive guided tour.