Completed in the year 879 CE, the enormous Mosque of Ibn Tulun is the oldest mosque in Cairo that is still in its original form. It is famed for its beautiful architecture.
Looking back...
This enormous mosque - the biggest in Cairo in terms of land area - was built in the 9th century CE under the orders of Ahmad Ibn Tulun, a fascinating figure of humble beginnings. A slave-soldier, he was sent to govern Egypt under the Abassid Caliphate, and within four years had effectively established himself as an independent ruler. He created his own capital city, Al-Qata'i, and commissioned the mosque as its main focal point. When the short-lived Al-Qata'i was destroyed in the 10th century, the Mosque of Ibn Tulun was the only building that survived.
An impressive structure 
Covering a space of over 6 acres (2.5 hectares), the Mosque of Ibn Tulun consists of an immense courtyard that was built to separate the inner sanctum from the secular society surrounding it. Four covered halls line each side of the courtyard, and in the centre, a fauwara - fountain - from the 13th century has replaced the original 9th century gilt-domed version.
One of the mosque's most magnificent features is its minaret, famous for its exterior spiral staircase, similar to that of the Great Mosque of Samarra, in Iraq. Climbing up the minaret, which is accessed from outside the most-like courtyard, is well worth the risky climb for the spectacular view.
Visiting the Ibn Tulun Mosque
Visitors are generally very welcome in the mosques in this area, but if you're interested in learning more about the Islamic history and architecture of Cairo, the easiest option is to book an English-language guided tour to take you around the capital's Muslim monuments:
The ticket to this mosque also includes entrance to the Gayer-Anderson Museum, an art museum located just next to the walls of the mosque. These 16th century houses are filled with antiquities and fabulous decor, and were also used as a filming location in the James Bond film The Spy Who Loved Me.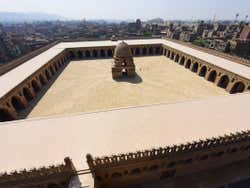 Schedule
Daily 8 am to 4 pm.
Price
Combined entrance ticket with Gayer-Anderson Museum:
Adult: LE 60.
Student (with valid ID): LE 30.
Transport
Hire a taxi, or book an inclusive guided tour.