Egyptian Museum of Antiquities
Opened in 1902 in an impressive Neoclassical-style building on the banks of the Nile, the Egyptian Museum in Cairo is home to the world's largest collection of Pharaonic antiquities and is the most important museum of its kind.
One of the best in the world
This enormous reddish-bricked Neoclassical building on the banks of the Nile is home to the world's greatest collection of Ancient Egyptian antiquities. Statues, paintings, reliefs and the glittering treasures found in the funerary complexes of the Pharaohs are amongst the museum's extensive collection. 
The highlights are a number of artefacts from the Valley of the Kings, especially from the intact tomb of Tutankhamun, and the Mummies Hall, where visitors can see the mummified remains of important Pharaohs and other royals.
Expanding the exhibitions
With an ever-growing collection over time as more and more archaeological discoveries are made, not all of the museum's 120,000-odd incredible artefacts can be shown at one time, and many antiquities remain safely stored away. 
Luckily, there is a solution: the Grand Egyptian Museum is currently under construction on the Giza plateau. Planned to open in 2020, it will be the largest archaeological museum in the world, and will showcase the entire Tutankhamun collection, as well as a huge number of pieces that will be on display for the first time ever. Get booking your trip!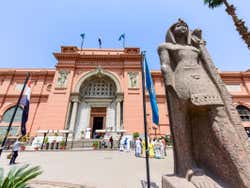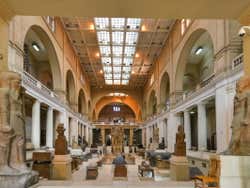 Schedule
Monday to Wednesday: 9 am to 7 pm.
Thursdays and Sundays: 9 am to 9 pm.
Fridays and Saturdays: 9 am to 4 pm.
Price
Standard visit:
Adult: LE 160.
Student (with valid ID): LE 80.
Night visit (after 5:30 pm Thursdays and Sundays):
Adult: LE 220.
Student (with valid ID): LE 110.
Mummies Hall:
Adult: LE 180.
Student (with valid ID): LE 90.
Combo ticket (Museum + Mummies Hall):
Adult: LE 300.
Student (with valid ID): LE 150.
Photo pass: LE 50.
Transport
An 8 minute walk from Sadat metro station, on lines 1 and 2.