Founded by Alexander the Great in 332 BCE, Alexandria was an Egyptian capital for over 1000 years and is to this day an important industrial, economic and tourist centre.
Located in the north of the country and with more than five million inhabitants, Alexandria is home to Egypt's main port city and one of the most important on the Mediterranean. An important economic and industrial centre, it is also the country's most cosmpolitan city and popular with tourists too.
What to see in Alexandria
Historically, the city was known for its iconic lighthouse. The Pharos of Alexandria was a lighthouse built in the 3rd century BCE and after almost 2000 years it was one of the longest surviving of the Seven Wonders of the Ancient World, before being destroyed by earthquakes in the 14th century. 
Built atop the ruins of the famous lighthouse is the 15th century defensive fortress known as the Citadel of Qaitbay on the Mediterranean Sea Coast. Fort Quaitbay, built by the Sultan of the same name, has been excellently restored, and discerning visitors may be able to spot ancient granite from the lighthouse amongst its walls.
Alexandria's other fascinating historic monuments include its library, which was home to almost a million documents in its heyday in the 3rd century, which was destroyed under the Roman Empire. The contemporary centre known as Bibliotheca Alexandrina, built in the early 2000s, does well to capture the spirit of the historic educational centre.
Sadly, due to both nature and human hands, the ancient remains of this historically great city are not as visible as in Egypt's other cities. Alexandria is still, however, a popular tourist centre for its beautiful beaches and the fascinating history that can still be felt here - its museums are well worth a visit.
English-language tours
Make the most of your trip to Alexandria, seeing the best bits of the city on one of our trips and activities with expert English-speaking guides: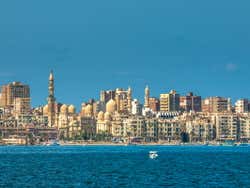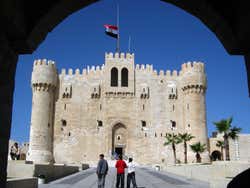 Transport
Two hours drive from Cairo on the highway.