Located on the banks of the Nile near Aswan, the colourful village of Gharb Seheyl gives a feeling of travelling back in time to ancient Nubia, the home to one of Africa's oldest civilisations.
Nubia is a region along the Nile that stretches across southern Egypt down to Khartoum in central Sudan. Its history dates back to at least 2,500 BCE and it was home to one of the earliest civilisations in ancient Africa.
After part of it was incorporated into Egypt by 15th century BCE Pharaoh Thutmose I of the New Kingdom, the enormous region was ruled by several empires, including the Kingdom of Kush, which in turn successfully conquered Egypt in the 8th century BCE and became the (short-lived) 25th Dynasty.
Following the collapse of Kush in the 4th century CE and the rise to power of Christian kingdoms, Nubia was in decline. Over the subsequent centuries, a region that had its own culture, languages and ethnicity was largely converted to Islam, and is these days split between the two contemporary countries of Egypt and Sudan.
Visiting the Nubian Village
Today, the village of Gharb Soheyl has become a popular destination for those wanting a peaceful escape the hustle and bustle of the big Egyptian cities, and for those wanting a taste of ancient life in Nubia. It is home to colourful Nubian houses, a golden beach where it's perfectly safe to swim, and a souk selling traditional local handicrafts, foods and spices.
If you're travelling from Aswan, the nicest way to travel is by boat down the Nile. If you want a truly authentic experience, reserve your sport on a felucca, a traditional Egyptian wooden sailing boat. You can hire either from the Corniche, the city's waterfront area. The river route takes you past the pink limestone Mausoleum of Aga Khan, the famous Elephantine Island and the iconic Old Cataract Hotel, known for its high-end clientele, including Agatha Christie, who set parts of her novel "Death on the Nile" at the hotel.
Reserving an English-language guided excursion including a hotel pick up service is an easy way to avoid the hassle of haggling for a boat yourself, plus you'll learn all about the places you visit thanks to your guide: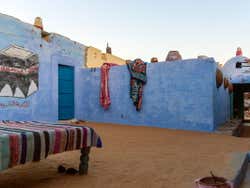 Transport
A motorboat or felucca from Aswan should cost around LE100. Alternatively, book an inclusive tour from the city.