Egypt's Valley of the Queens
The Valley of the Queens, or "the place of beauty" as it was known in ancient times, is the burial site of the royal wives and princesses of Egypt's New Kingdom.
The Valley of the Queens, located in a neighbouring wadi, or valley, to the necropolis of the Pharaohs, is home to the tombs of the royal women of the New Kingdom of Ancient Egypt. The wives of Pharaohs, princesses and even a handful of princes were buried here from the 18th through to the 20th dynasties.
Known as "Ta-Set-Neferu" - "the place of beauty" - in ancient times, of the more than 75 tombs that we know of, only four are open to the public. Visitors can enter the burial places of Queen Titi, the Ramesside princes Khaemwaset and Amunherkhepshef, and the tomb considered to be the finest in Egypt: that of Nefertari.
One of the best known Egyptian queens, Nefertari Meritmut was the first of Ramesses the Great's Royal Wives. Named "Beautiful companion, beloved of Mut", she was well educated and involved in politics. Among many other nicknames, Ramesses called her "the one for whom the sun shines", and her importance can be felt immediately on entering her spectacular tomb. Exquisitely colourful scenes decorate the walls of the three chambers and their connecting corridors; while golden stars twinkle down from the ceilings. Ramesses' love for his first wife is also demonstrated in the enormous rock temple dedicated to her that stands beside his own at Abu Simbel.
While Nefertari's tomb is without a doubt the largest and most beautiful in the valley, if the entrance fee is too pricey, the tomb of Amunherkhepshef is also well worth a visit for its well-preserved reliefs. 
Visit the Valley of the Queens
The Valley of the Queens is located across the Nile from Luxor, near to the Valley of the Kings, the Colossi of Memnon and the Temple of Hatshepsut. If you know your stuff, and don't think you need a tour guide, the cheapest option to visit is to find a taxi offering a good price to take you to all the monuments and wait for you while you explore. This will probably cost between LE 100 - 200 depending where you want to visit and how long for.
The easiest option is to book a guided tour that includes entrance fees, hotel pick up and drop off, and a knowledgeable English-speaking guide: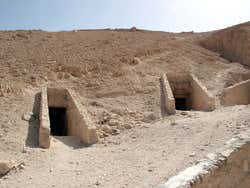 Schedule
Daily from 6 am to 5 pm.
Transport
Hire a taxi for the day to take you to all the sights in the area, or reserve an guided tour that includes transportation.