The Al Rifa'i Mosque is an impressive Muslim temple in Cairo. It is also known as the Royal Mosque for being the burial place of a number of Egyptian royal family members.
Located near the Saladin Citadel in Cairo, the contemporary Al Rifa'i Mosque stands opposite its historic counterpart, the Mosque-Madrassa of Sultan Hassan.
The enormous place of worship was built over a period of 43 years, finally being completed in 1912. Constructed as part of the 19th century Egyptian rulers' plan to both modernise the capital city and embrace the glory years of Egypt's Islamic history, the mosque's design - especially its dome and minaret - is particularly influenced by Mamluk architecture.
The temple also goes by the name of the Royal Mosque, as it is the final resting place of a number of modern Egyptian royals. 
Visiting the Royal Mosque
The ticket for Al Rifa'i Mosque includes entrance to the Mosque-Madrassa of Sultan Hassan, and it is worth visiting both to take in their incredible similarities, despite the two having been built way over 500 years apart. If you're interested in an in-depth visit of Cairo's Muslim monuments, we offer an English-language guided tour tailored to the Egyptian capital's Islamic history: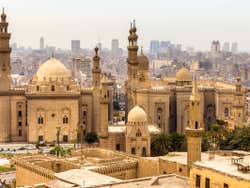 Schedule
Daily from 8 am to 4:30 pm.
Transport
Hire a taxi, or book an inclusive guided tour.