Mosque-Madrassa of Sultan Hassan
Constructed during the mid-14th century, the Mosque-Madrassa of Sultan Hassan is one of the largest mosques in the world and is home to some remarkable architectural achievements for its age.
As enormous as this Muslim place of worship is, it is equally elegant. Commissioned by the Mamluk Sultan of Egypt An-Nasir Hassan and completed in 1359, it was an impressive architectural achievement for its time. At 150 metres (492 feet) in length, with its tallest minaret towering 68 metres (223 feet) above Cairo's old city, it is one of the largest mosques in the world. 
The grandeur of the mosque-madrassa reflects the dramatic life of the Sultan who ordered it to be built: after coming to power at the tender age of 13 years old, he was deposed and reinstated three separate times. What's more, shortly after one of the four planned minarets collapsed during construction, killing three hundred people, the Sultan was assassinated - he never even got to see his namesake building completed.
Visitors enter through an enormous and intricately-carved gateway into a surprisingly small, dark corridor, which then leads into a large yet peaceful courtyard centred on a domed fountain. On each side of the sun-bathed square are four soaring vaulted halls, or iwans, which are home to the madrassas, or education centres, of the four different Sunni Islam schools of thought: Shafi'i, Maliki, Hanafi and Hanbali.
Visiting the Mosque-Madrassa of Sultan Hassan
The Mosque of Sultan Hassan is an awe-inspiring building and well worth a visit. The ticket includes entrance to the next-door Al Rifa'i Mosque, or the Royal Mosque of Cairo, and it makes for an interesting experience to see both side by side, comparing their similarities despite their age differences. If you'd like to know more about Cairo's Islamic history, why not book an English-language guided tour the capital's Muslim monuments?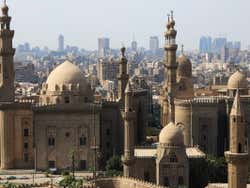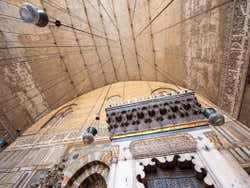 Schedule
Daily from 8 am to 4:30 pm.
Price
Combined entrance ticket with the Al Rifa'i Mosque:
Adult: LE 60.
Students (with valid ID): LE 30.
Transport
Hire a taxi, or book an inclusive guided tour.