Constructed over the course of two thousand years from around 2000 BCE, Karnak is one of the largest religious complexes in the world and was Egypt's most important place of worship during the New Kingdom. 
Built over two millennia between the years of around 2200 and 360 BCE, Karnak is a massive Ancient Egyptian temple complex that was one of the country's most important places of worship under the rules of Hatshepsut, Seti I, Ramesses II and Ramesses III. As well as the dominating Temple of Amun-Ra, Karnak is also made up of smaller chapels and sanctuaries dedicated to other deities, as well as grand halls, docks, a sacred lake. and pylons - the monumental gateways that mark temple entrances.
One of Karnak's most spectacular sights is the Great Hypostyle Hall. This enormous monument is made up of 134 massive columns - some of them almost 70 feet (21 metres) tall - lined up in 16 rows over an area of 50,000 square feet (5,000 square metres). 
At the southern entrance to the temple, the great Avenue of the Sphinxes lead one and a half miles (3 km) down to Luxor Temple and the River Nile. Some of the human-headed sphinx statues can still be seen to this day.
Top tip
Avoid the sweltering midday heat and mass crowds of day-trippers visiting from the resorts by heading to the temple complex for early morning or the evening. Dawn and dusk also make for spectacular lighting around the majestic ancient structures. 
Make the most out of your trip to Luxor by visiting the city's incredible temple complexes with an expert English-speaking guide. You'll get to see the most iconic historic monuments while learning all about their legendary history:
Guided Tour of Luxor and Karnak Temples
Light and sound show
If you'd like to see a different side of Karnak Temple, why not return in the evening to experience one of Egypt's most famous light and sound shows. Different parts of the temple complex are beautifully illuminated as their dramatic history is revealed to you. This spectacle is put on daily in different languages - English is usually the first show of the day, aside from on Sundays and Wednesdays, when it is second.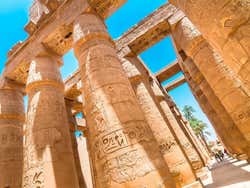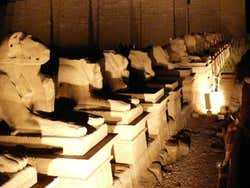 Schedule
Daily between 6 am and 6 pm. 
Light and sound shows run in the evenings: 7 pm, 8 pm and 9 pm in winter and at 8 pm, 9 pm and 10 pm in summer.